10 juni

What????
Did Pita aka Dan-L's Pita Peptoe just win BEST IN SHOW Puppy at the monografica for Portuguese podengos in Portugal? The biggest event of the Year?
YES, SHE DID!!!!!! ❤️
11 may
Jiiii.... It was cold and windy at IDS DKK Roskilde today. However the sun was shinning upon Pita, Pouca and Pequeno. Princess Pita aka Dan-L's Pita Peptoe had a blast kangarujumping to BOB Puppy while mum Pretty Pouca aka Intch etc Tappinskis Dare You Pouca blessed me with cacib and BOS. Precious Pequeno aka Intch etc Paraiso de Viamonte showed his heart out and took yet another BOB/cacib. Judge was Tomas Rohlin.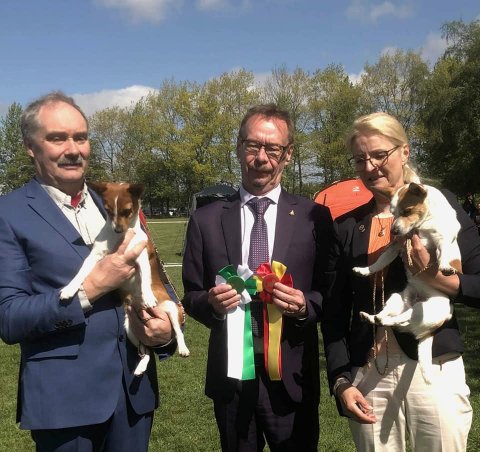 20 april
At Sighthound Club Show Friday Pretty Pouca manage to win BOB, while Precious Pequeno had fun with his 2nd BM. Naughty Princess Pita showed all sides of herself winning BOB BABY and BIS 3 BABY.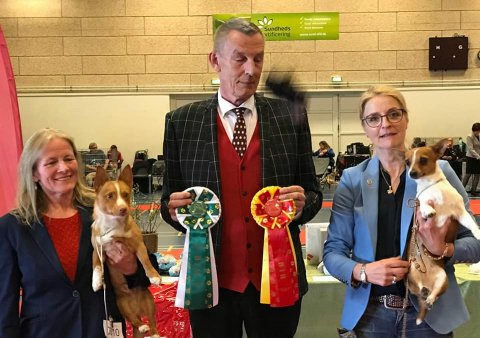 30 march

Villumsen is new INTERNATIONAL SHOW CHAMPION 🎉🎉🎉 We had the most perfect day at IDS Malmo, S when Villumsen aka DKCH(U) SICH CZCH NOCH SECH(U) NORDCH GRW18 SPKV18 Dan-L's What Dreams Are Made Of under breed specialist Tord Lundborg Zaar took his final Cacib, BOB and 3rd in group. Huge thanks for all lovely congrats on this very special day, for great company and all super photos, this one from Henrik Nukander Larsen. I am happy, proud, so very tired but looking forward to enjoying these memories tomorrow and the days to come ❤️❤️❤️
23 march

It has been a funny day with the podengo - gang on tour to Sighthound CC show in Køge. Precious Pequeno BOB and Pretty Pouca BOS while Princess Pita trotted her way to BIS 2 baby
3 march
Milan....!!!! My boy Milan
aka KBHJV18 DKJUCH JUNCHCLB ClbJubPupW18 Dixie Rebel From Peggywood was showing his soul out at Spaniel club CC-show and SPANIEL CLUB WINNER 2019 saturday.
1st show Judge Børje Johansson, S 1.juncl - CC- BD3 and BEST IN SHOW JUNIOR 2
2.show SPANIEL CLUB WINNER 19 Judge Jerzy Olszewski Sylena, Pl 1. juncl - CC - Best Male and BOS and got 2 more titles under his belt just 14 months old: Spaniel Club Junior Winner19 and Spaniel Club Winner 19
Magnificent Milan keeps impressing me
Milan is bred by Bibi Bermon ...
This was not the only fabulous results from Dan-L
1st show Judge Börje Johansson, S Ch.Dan-L´s Telling Me Dreams 1 ch New Clubch BEST OF BREED and BEST IN SHOW 🏆🏆🏆
Loved and owend by Sandra and Per Villumsen
2nd show Spaniel Club Winner Judge Jerzy Olszewski Sylena, PL
Dan-L´s Ten For Me BOB Puppy and BEST IN SHOW PUPPY and SPANIEL CLUB PUPPY WINNER19
Devoted owner Anne-Lise Dyhl
GrJunCh. GrJW18 CPHJW18 Dan-L´s Chocolate Easter Star 2.intermed 2 BB res.CC.
Proud of this Chocolate roan young girl - not an easy colour to show.
Totally spoiled by Melissa and Jeanne Tribler. She was entered for this show only.
I am proud!!!
Thank You to the judges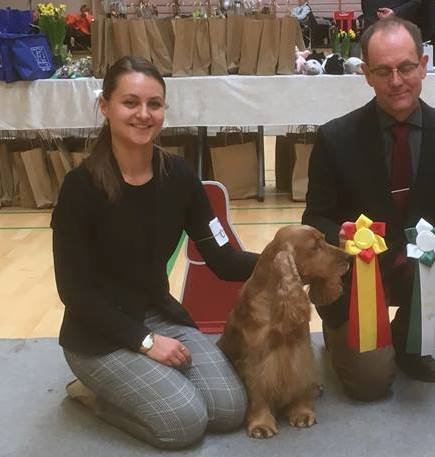 24 february
Puppy Pita aka Dan-L's Pita Peptoe was the sweetest little girl in the ring yesterday at DKK reg 2 Open Show, when she charmed her way to BOB Baby and was shortlisted in BEST IN SHOW BABY among a very large number of wonderful babies. Brother Dan-L´s Paco Popeye was her brilliant personal coach and supporter the whole day. Thanks to his devoted owner Helle for nice company and to Brian for great snapshots and the rest of the gang Henrik, Bjarne and Anne-Lise who brought her wonderful Cookie aka Dan-L´s Ten For Me who in my hands was BOB puppy. Thank you for trusting me handling her.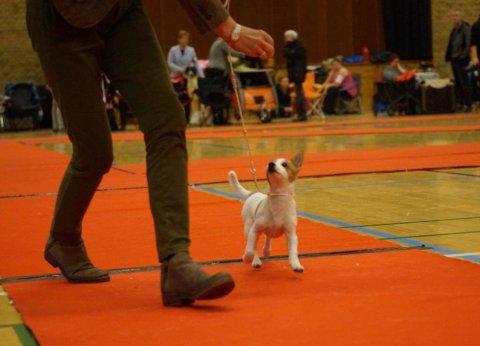 10 february
Pita aka Dan-L´s Pita Peptoe had a BLAST at her very 1st show at DKK IDS Fredericia saturday, just 3 month and 4 days old and showed her absolute wonderful temperament. Pouca aka INTCH PTCH+32 titles Tappinskis Dare You Pouca and Pequeno aka INTCH PTCH+37 titles Paraiso de Viamonte both showed their socks off, but did not make any earthbreaking records ;-), but got what we came for ...the opinion of the judge.
21. january
Spaniel Club 2x CC made me so very proud of my dogs and breeding :-D 🌟New ClubJuniorChampion🌟 - CC and BH2&3 BIS Junior 2&3 Milan aka JunCh(DKK)CPHJW18 ClbJubWPupW18 Dixie Rebel from Peggywood breeder Bibi Bermon Esther aka Grjch Grjw18 Cpjw18 Dan-L´s Chocolate Easter Star (entred only 2.show) 1 ck 3 BT resCC owner Melissa& Jeanne Tribler Lui aka Dkchu Dan-L´s Telling Me Dreams 2.chck 3 BH owner Per Villumsen Judges: Vanessa Malkmus, DE & Sascha Paduch,DE