23 oktober

VDH Bundessieger 21 was treating us with icing cold rain and wind Friday and beautiful warm autumn sun Saturday - but also shinning results in the rings. Friday, Cookie aka DKCH and much more Dan-L's Ten For Me showed her overloaded classic type and movement to BEST OF BREED - CC (club/vdh) -CACIB and got 2 new titles under her belt 💥German champion (vdh) & Bundessieger 21💥 Sweetheart Kelly aka Lots of Junior titles Dan-L's Foreign Affair continues her claim on titles by adding 💥Bundesjugendsieger 21💥 to her name.
Judge Herbert Kleman, D
My podengos Precious Pequeno, Princess Pita can add 💥 Bundessieger 21💥 to their names. Pequeno BOB and Pita BOS.
Poppy Pinca aka Dan-L's Pinca Poppet was Bob puppy with an amazing critic. Judge Bjørn Fritz, D
Do I need to say, I am proud?
Cookie
Kelly
Pita, Pequeno and Pinca

18 oktober

Some shows will be remembered for other things, than what happens in the ring. Yesterdays Rostock show will be remember for having the same judge within 2 month for the same breed and dogs. (Judge was not publish until after deadline) - however - while Pequeno was not shown - Pita aka INTCH DKCH PTJCH + many more Dan-L's Pita Peptoe was shinning in the ring and took the Rostock Winner 21 and I was - as always - happy to meet my friends in the breed. In the cockerring sweetheart Kelly aka Lots of Titles Dan-L´s Foreing Affair trotted her way to 3 💥 new titles German Junior Champion CLUB & VDH + Rostock Junior Winner 21 💥, while Cookie - aka DKCH and much more Dan-L´s Ten For Me blessed us with yet another class win CC vdh and res. Cacib. Huge Thanks to the owners Henrik Nukander Larsen and Theis Larsen and Anne-Lise Dyhl for trusting me their cockers in the ring.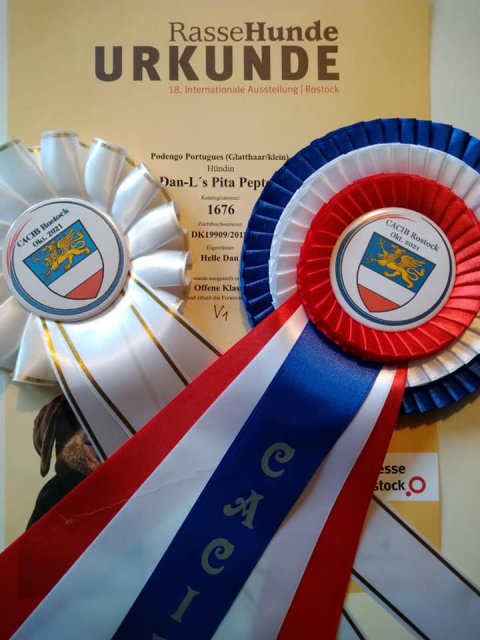 10 oktober

4 shows in Fehraltorf, Schweiz Freezing cold in the mornings.. (thanks God for the invention of gas heater 🔥) However bringing back to Denmark 3 brand new swiss champions and 1 swiss junior champion was worth all the cold, wind and mist. They began the shows every day at 8.30.. Brrr 🌬️❄️ ▪️Friday morning CAC Judge Anna Brankovic BOB CC Paraiso de Viamonte BOS CC Dan-L's Pita Peptoe ▪️Afternoon CACIB Judge Jochen Eberhardt, D BOB CC CACIB Dan-L's Pita Peptoe Very Good Paraiso de Viamonte ▪️Saturday CACIB Judge Gabriela Veiga BOB CC CACIB Paraiso de Viamonte BOS CC CACIB Dan-L's Pita Peptoe ▪️Sunday CACIB Judge Christine Rossier BOB CC CACIB Paraiso de Viamonte BOS CC CACIB Dan-L's Pita Peptoe In the cockers Intch etc Cockerblues Forrest Flower was 3 x BOB, CC and 2 CACIB while Dan-L's Foreign Affair was 4 x BOB junior Friday were no finals but sunday we were thrilled to end these 4 shows with a shortlisted Pequeno in gr. 5 under Gabriela Veiga 🌟Kelly won gr 8 junior 🌟 and 🌟Ritten was 2 in gr 8.🌟 Judge Monika Blaha
Henrik Nukander Larsen and Theis Larsen were great help and company.
Pita and Pequeno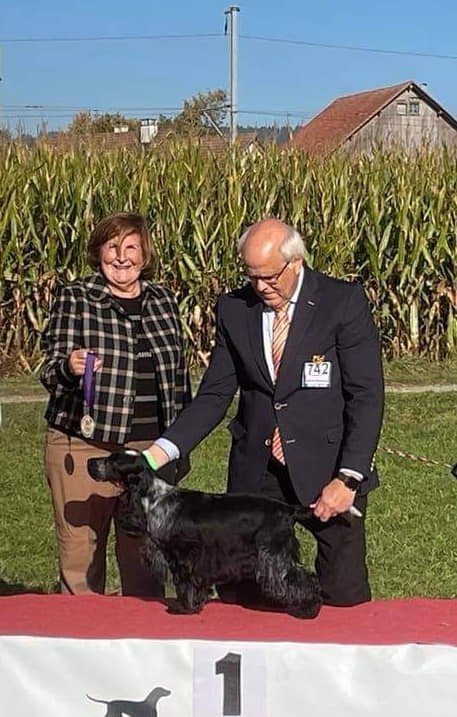 Kelle BIG Junior

26 september
Poppy Pinca aka Dan-L's Pinca Poppet went to Komarom, HU for the 3xcacib Diana Cup and had a blast in the ring showing herself off to her very first titel 🏆Grand Minor Winner🏆 at the age of 5 months.
She brougth her 1/2 sister Princess Pita who gained the Hungarian champion title 🏆🎊 while daddy Precious Pequeno missed one cc due to the judge, who would NOT accept his veternary certificat for loss of teeth (there is a first time for everything 🤪) , however he was awarded CC, Cacib and Best of Breed incl shortlisted in the group day 2 and CC, Cacib, BOS day 3.
I had the honour to show Ritten aka Intch etc Cockerblues Forrest Flower to 3xcc cacib 2xbest bitch and the Hungarian Champion title 🏆🥰🏆🥰
Thanks to Henrik Nukander Larsen and Theis Larsen for company, photos and taking care of my diet... Hehe 🤣😁🧁🍭🍬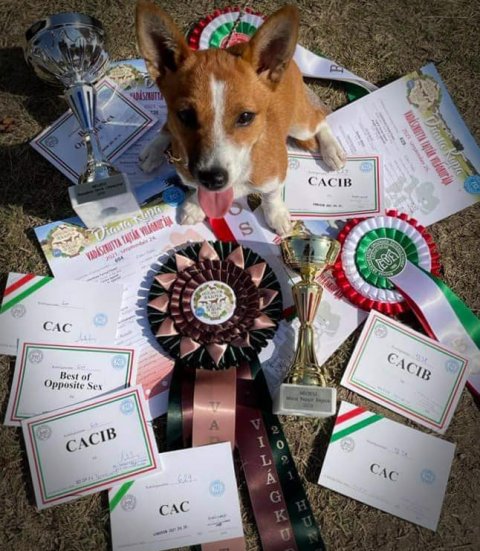 Pinca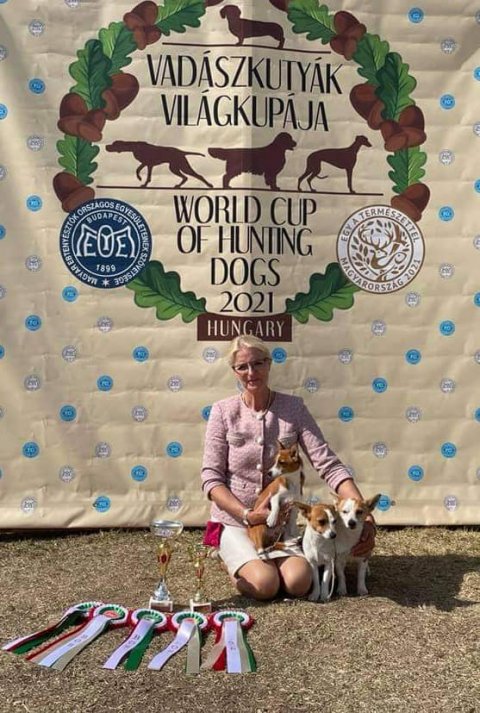 Pinca Pequeno and Pita
18 september
Wooow.... While I and the podengos swept the floor at IDS Copenhagen Winner in Ballerup Precious Pequeno went BOB CACIB COPENHAGEN WINNER 21 - Princess Pita was BOS CACIB COPENHAGEN WINNER 21,
Poppy Pinca Bob Baby, Migge aka Dan-L's Pica Pin-Up was 2 BB with CC -res cacib. Loved by Vickie Nellemann Kramer .
Henrik Nukander Larsen did fantastic at Club show in Hamburg with the cockers Little Kelly aka HrJunCh etc Dan-L's Foreign Affair Best Bitch Jun cc vdh and Club.
Cookie a dkch Dan-L's Ten For Me cc vdh and res CC club... Well done!!! Proud of my team!!! ❤️
Thanks to Karsten for photos...
Pinca, Migge, Pequeno and Pita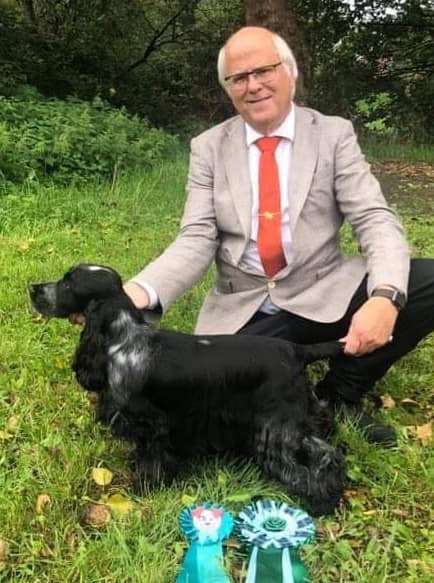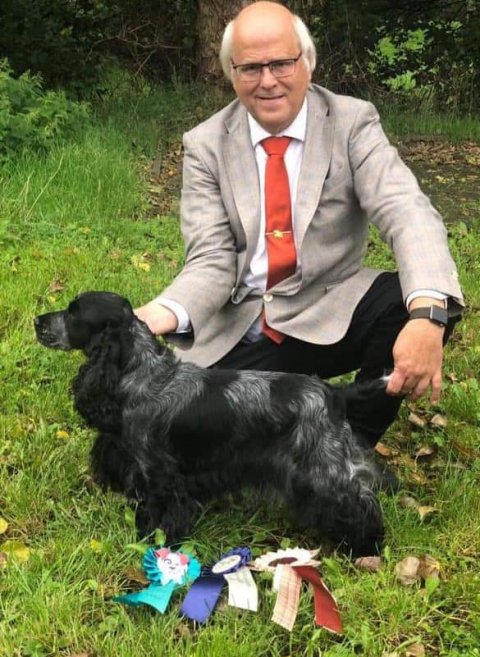 Kelly and Cookie
11 september

Princess Pita aka Loads of titles Dan-L's Pita Peptoe can now add titel no 26 - Swedish Champion - to her name while Poppy Pinca aka Dan-L's Pinca Poppet was Best Baby.
Thanks to Karsten Kragh for nice company and help.
Judge Marion Marpe .
Pita and Pinca
6 september
Here and there and everywhere...this could be the headline of this weekend. Well...you cannot be 2 places at the same time, but my dogs were in the best of handlers, who did their outmost to spoil my beloved dogs!
While I was working my butt off at the 3 shows Spaniel Club Gold and Silver Cup shows at Hasmark - Karsten and Lisbeth took podengos Poppy Pinca and Princess Pita to the Sighthound CC- show where Poppy Pinca aka Dan-L´s Pinca Poppet was charming the judge Weimars from Holland to BOB Baby - while Pita aka Loads of Titles Dan-L´s Pita Peptoe was BOB - which makes her unbeatable for BREED WINNER 2021 in the Sighthound Club 🏆
At the Gold Cup and Silver Cup shows - Kelly Belly - aka Many jun ch/winner titles Dan-L´s Foreign Affair was 4 BEST BITCH from Junior Class at 1st show and JUN CC, CLUBJUNCC, CC and 2. BEST BITCH at 2. show.
At show 3 she was 2nd in Junior with res jun CC club and DKK Kelly Belly is owned by Henrik and Theis Larsen
Lui - aka Lots of titles Dan-L´s Telling Me Dreams went BEST OF BREED at 2.nd show 💥
Proud of his owners Per og Sandra Villumsen whom are keeping him in such a great condition ❤
Little Tenis aka Dan-L´s Ten Is Mine had her show debut at 2nd show saturday - and she totally amazed me - she blew me away - as she actually WALK and had fun in the ring with the leash on - (she had until that day completely refused to take just one single step) - She was trotting her way to 1. in baby class and so did she at sundays Silver Cup Show and took her very first title Silver Cup Baby Winner 21 at the age of 3½ month and she crowned the day by charming her to BEST IN SHOW 4 BABY.
In Germany, Cookie - aka DKCHU etc Dan-L´s Ten For Me went for her 3rd German CC at Club show in the hands of Henrik Larsen.
Devoted owner is Anne-Lise Dyhl. I am so very proud of this show team and very humble and thankful for the people in the other end of the leash showing my dogs to perfection and taking so good care of them, while I am elsewhere. ❤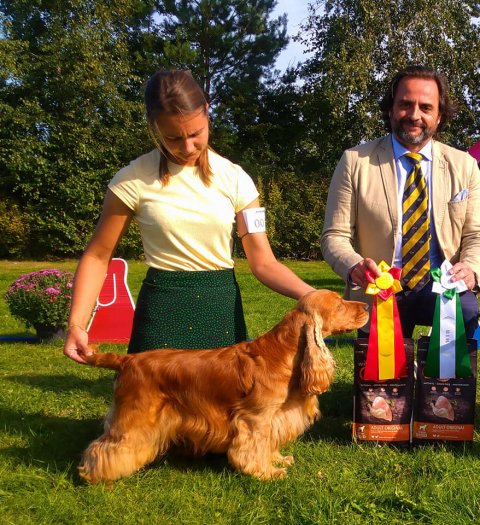 Lui
Tenis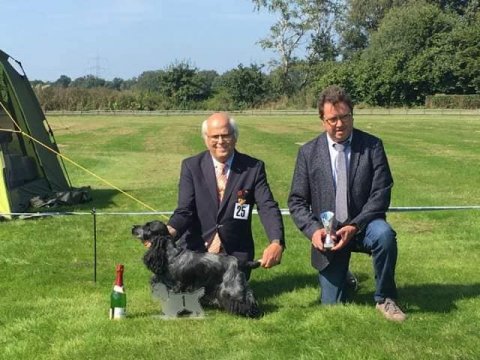 Cookie
Kelly
26 august
This summer has been as crazy as ever!!!
I really dont know where to begin and end - however 2 days after the cockerbabies had left for their new families - 17.july - the car was packed with lots of dogs and we took off towards the south.
First stop was Postjana in Slovenia where Princess Pita - Dan-L´s Pita Peptoe took BOB CC and Cacib which made her New Slovenian Champion.
Ritten - Cockerblues Forrest Flower was BOB CC and Cacib among the cokers and Little Kelly - Dan-L´s Foreign Affair BOB Junior.
Off we went to our destination for the next week - Split in Croation - after a few days of vaccation we went to the 4-days night show in Split - and were more than thrilled with the results - My pride of them all Tibbe Baret - Body Rocks One Man Army trotted his way to Croation Veteran Champion and Split Veteran Winner - Little Kelly sweep the floor and took all 4 days best Junior - Split Junior Winner 21 and Croatian Junior Champion. Ritten was BEST BITCH CC 1 day.
Princess Pita was best bitch all days and Split Winner 21 incl Croatian Champion.
we returned to Denmark on the Tuesday morning and thursday I went to Poland to Judge the Spaniel Special in Opole. My friends came later with the dogs and we showed on the int show also in Opole with great success - Princess Pita was BOB with CC and Cacib - and little Kelly won a huge junior class with junior CC and BOB junior.
Back to Denmark in the night and we had 1½ hours of sleep before next show in Denmark - First was Princess Pita and my new little star Pinca - Dan.L´s Pinca Poppet at DKK Nordic in Brørup Pita was BOB with nordic CC and Pinca BOB baby - we did not stay for the finals as I had to go to Spaniel Club show in Bredsten - where Little Kelly was Best Bitch from junior class and wonderful Lui - Dan-L´s Telling Me Dreams was Best of Breed and BIS 2.
Finally home for 3 days - before the showbus was packed again and we went to 3x Istra Summer Show in Slovenia.
Pita was 3x BOB and Istra Winner 21 - Little Kelly was 3x Best Junior with Jun CC and 1x Best Bitch incl Istra Junior Winner 21 - while mum Ritten was 3x CC and Cacib incl 2x best bitch and new Slovenian Champion plus Istra Winner 21.
Finally back home in Denmark and relaxed a few day before the trip took us to 2xDKK IDS at Bornholm - where Princess Pita was 2x BOB with Cacib, and Ritten took Best of Breed with Cacib which crowned her with the most precious titel of them all INTERNATIONAL CHAMPION!. Lui - was Best Male day 1 and Best of Breed with cacib day 2 and BEST OF GROUP 3.
After 1 whole week home I had a short trip to Gelsen-Kirchen to German Winner where Princess Pita took yet another titel German Winner 21 incl Cacib.
Little Kelly made us very proud with a new titel to her too German Junior Winner 21 incl BOB Junior and jun CC.
Well - dogshowing is not for the fainthearted!
BUT - it is lots of fun!!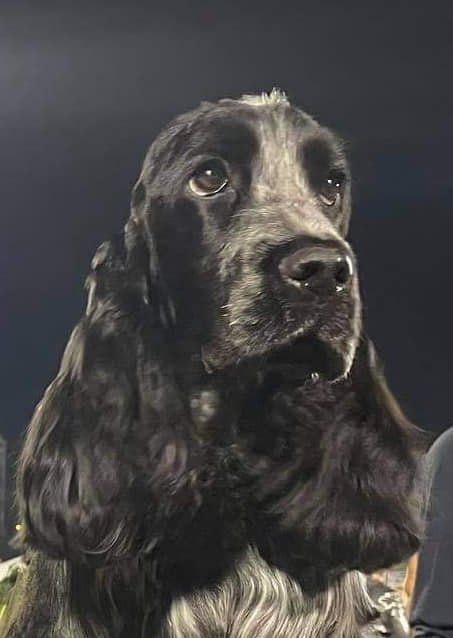 Kelly
Kelly
Baret at 14½ years of age
Princess Pita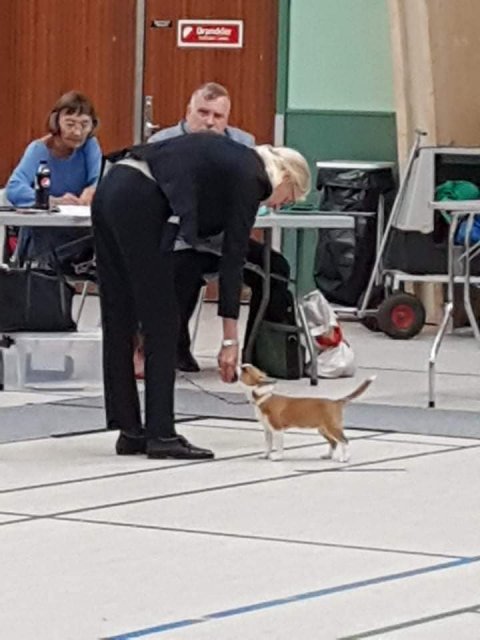 Poppy Pinca - Dan-L´s Pinca Poppet
27 june
This is how a brand new ⭐INTERNATIONAL CHAMPION⭐ and owner look like 10.10 am after drivning 800 km through the night to get to IDS Chemnitz, De.
Princess Pita aka Loads of titles Dan-L's Pita Peptoe now 2 1/2 years old and international champion 🥰🥰🥰
20 june
I are more than happy to announce a brand new Danish Champion from my small selected kennel.
Cocker Dan-L´s Ten For Me was 2. Best Bitch at IDS DKK Vejen with CC.
It was a proud day andlots of congrats to her devoted owner Anne-Lise Dyhl.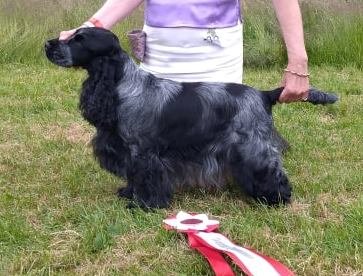 Cookie - Dan-L´s Ten For Me
12 june
Princess Pita aka Dan-L´s Pita Peptoe was shinning at the Sighthound CC-Jubilee show in Vejen, and took yet another BEST of BREED incl Club CC - she can add a new titel Jubilee Club Winner to her very long row of titles. 18 titles at the age of 2 years and have had a lockout from shows due to Covid 19 ❤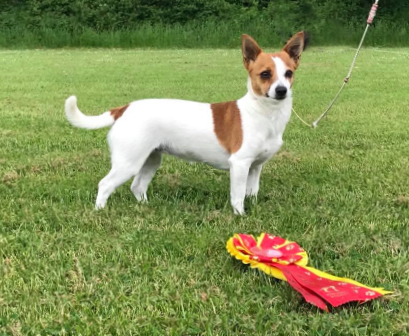 29 may
Sun, friends and laughter combined with great results made the Spaniel Winner 20&21 CC-shows may 29th to something speciel.
Worth to remember was the fantastic results the Dan-L cockers achieved.
BEST IN SHOW 2 to Intch etc Dan-L´s Telling Me Dreams and new SPKV20
BEST IN SHOW 2 PUPPY Dan-L´s Foreign Affair and new SPKHVV20
DKJCH etc Dan-L´s Ten For Me was sniffing to the Danish Championship with a res.CC and Best Bitch 3.
Huge congrats to their owners Sandra&Per Villumsen, Henrik&Theis Larsen and Annelise Dyhl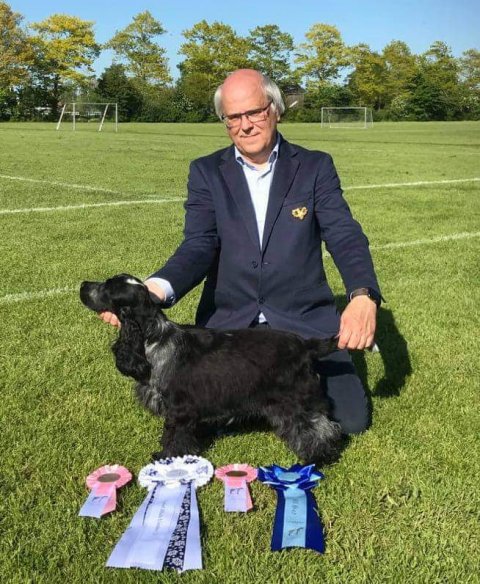 Kelly
Lui
19 may
Mine has given birth to 5 boys and 3 girls - all healthy and sound.
Alle hvalpe er reserveret!


19 april
What a fantastic way to start the Year after Corona-lock-down in the Cocker ring!!! ❤️ Little sweetheart Kelly aka Dan-L's Foreign Affair trotted her way to Best of Breed Puppy while Cookie aka DKJUCH KBHJV19 DKJV19 SPKHV19 DEJCH DEVDHJCH Dan-L's Ten For Me charmed her to her 2nd CC and BT3.
Icing om the cake was Lui aka Intch Dkuch Klbch KBHV19 DKJV19 Dan-L's Telling Me Dreams who went all the way to Best of Breed 🏆🇩🇰🏆
Huge thanks to devoted owners Henrik Nukander Larsen, Anne-Lise Dyhl, Per & Sandra Salling Villumsen for caring and loving these cockers.
Judge was mr. Jens Martin Hansen, DK
Kelly
Cookie
Lui
12 april
In the weekend 10&11 april we wrote history in the showring !!!
10 april
Brand new Danish Champion to Dan-L's. What a marvelous feeling it always is to make up a champion and although I have bred a very large number of champions in cockers, it is absolutely the best feeling in the world to make up my very first self bred podengo as danish champion ❤️
Princess Pita aka
Ptjch Dkjunch Dkkjunch Luxjch DEJUCH(vdh+club) BELUXJUW19 DEJW19 LEIPDEW19 CPHJW19 CPHW19 ROSTDEJUW19 DEVDHJSL19 HERBSTJUW19 DKJUW19 LATINJUW20 Portojuw20
Dan-L's Pita Peptoe
proudly adds DANISH CHAMPION to her very long row of titles.
We are so very grateful to the Danish Sighthound Club who had the talent to organize the cc show in Strøby, DK.
Judge was Hanne Laine Jensen, DK
11 april Pita took yet another Best of Breed incl Club CC under Annette Bystrup, DK
16 february
Pouca has been mated to Pequeno
Expecting podengo babies end of April
14 february
I have spend the last couple of months packing and moving from Rørmosehus to my new home.
It all went quit fast, as I hired the house december 28 2020 and moved in on january 19th 2021 - this in spite of that Rørmosehus was sold already in july which gave me 6 months to find a new home.
Well, Dewitz House was worth waiting for....
I am thrilled over Dewitz House - build in 1750'ties - spacy with a big garden for the me and the dogs.