10 november

♥️ Villumsen ♥️ Villumsen ♥️ This boy keeps impressing me!! He keeps picking up title after title, although he is very limitly shown. He shows constantly, what material he is made of ♥️ Just as today at speciality show in Sweden where he got CC-BOB and the Swedish and Nordic champion titles under his belt. Gentleman judge of the day was Stig Arne Kjellevold, N. Villumsen will now do his best to hunt down the last cacib for his crown title, as the year has just past. Villumsen is Dkuch Noch Se(u)ch Nordicch Grch Czch Spkw18 Grw18 Dan-L's What Dreams Are Made Of out of the late King Intch etc Dan-L's Let's Talk About Sex and Intch etc Natisja's You're Telling Me ♥️

7 november
History making is on going!!
1st litter of podengos born at Dan-L´s

6 november
Got the AON DNA result...Villumsen is CLEAR!!

5 november

Stress, friends, chats and lots of miles in the feet and behind the wheel will be the words of the day at IDS Herning, DK. However..... IT WAS WORTH IT ❣️ 1st out was precious Pequeno who already before the 2 last DKK Shows of the year could add his 39th title to his name Paraiso de Viamonte... DKK Breed Winner 2018 and he sealed it by winning Cacib/BOB today. The big fun was the star youngster Milan aka Dixie Rebel From Peggewood who won his last DKK juniorCC and got his 3rd title Junior Champion DKK under his belt and in just 3 shows 10 months old. Huge thanks to the breeders, Miguel Sabino and Bibi Bermon, of these 2 magnificent dogs, who make me smile every single day 😍😍😍
Pouca stayed home preparing herself for upcoming maternal duty 💝

8 october

Woopsadaisy!!!!! Villumsen is new Czech champion with cacib and BOB!
Proud of my boy!!
Dkuch Grch Nuch Slch Spkw18 Grw18 Dan-L's What Dreams Are Made Of....
Son of the legendary Intch etc Dan-L's Let's Talk About Sex
💕💕

2 new titles for the podengoes Czech Champion
Pequeno BOB while Pouca took BOS.

23 september

Tjuliiiihoooooooooo!!!
We made the double at IDS Copenhagen Winner with the youngsters Milan and Esther. Both won junior class ck - Jun CC - Copenhagen Junior Winner 18 - 2nd best in sex Milan with his very 1st CC while Esther took re. CC. 🏆🏆🏆 My Milan is just 9 months 3 day old and his full name is Klbjubhv18 Dixie Rebel von Peggywood bred by Bibi Bermon Esther is Grjch Grjw18 Dan-L's Chocolate Easter Star owned and spoiled by Melissa& Jeanne Tribler. Today's judge was Mr. Bjarne Sørensen, N Future looks good
😍😍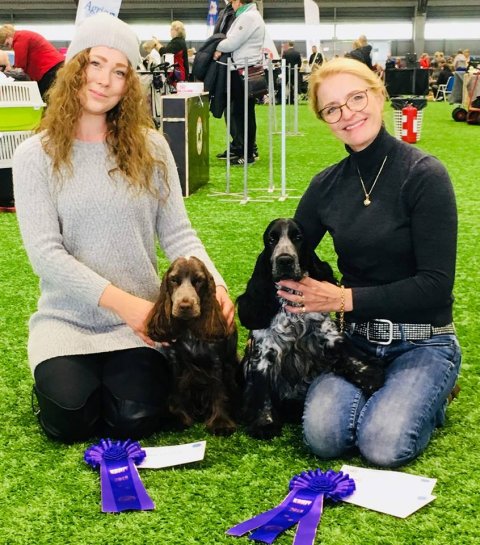 17 september
Rogaland!!! - just as much as I love to be there - just as much do I hate to get there!!!! However it was worth it.. Villumsen aka Ch. Dan-L's What Dreams Are Made Of showed himself to CC-CACIB-BOB-BIG 3 and new Norwegian champion ❤️❤️❤️ Pretty Pouca charmed her to the CC and can add Norwegian champion to her very long row of titles. Pouca is Intch etc Tappinskis Dare You Pouca bred by Anna Tapper. Proud of my dogs..
19 august

Pretty Pouca aka Intch etc Tappinskis Dare You Pouca didn't want to stand back for Pequeno aka Intch Paraiso de Viamonte, so she turned up for her overloaded charm and took CACIB/ BOB in front of Pequenos CACIB/BOS. Great weekend at wonderful Bornholm meeting many friends with their great dogs.
18. august
What a day!!! BOB - CACIB AND 4TH IN GROUP to Precious Pequeno aka Intch etc Paraiso de Viamonte Breeder Miguel Sabino ❤️ Pretty Pouca aka Intch etc Tappinskis Dare You Pouca BOS - CACIB. Breeder Anna Tapper. DKK int Bornholm. Proud beyond all mean of my little boy.
5 august
2xNordic CC to Precious Pequeno with BOB and Pretty Pouca as BOS. Normal Danish summer weather with strong wind and showers.. for once. Congrats to aunt Xuxa to Nordic CC and BOB.
8 july

2 shows this weekend of very different characters. Friday I went to Nordic show in Tvååker, S and did my judging exam on podencos and podengos. Will last some time before I get the result from DKK. Huge thanks to judge Per Lundström for coping with me in the ring and to Nadja for stewarding me and of course all owners who patiently were letting me go over their lovely dogs ❤️🐕❤️🐕❤️ Saturday, Lisbeth and I went to Sighthound CC show in Nørresundby,DK where Pretty Pouca and Precious Pequeno on a very hot day trotted their way to BOB and BOS 💖💖💖 1150 km done...
1 july

1 show - 2 dogs - 4 titles 🏆💖🏆💖 Precious Pequeno took CACIB BOB Annual Throphy Winner18 while Pretty Pouca got CC VDH+CLUB CACIB BOS Annual Throphy Winner18 AND new GERMAN CHAMPION VDH AND CLUB 🏆🏆🏆. The show was Annual Throphy Winner in Hannover, Germany. Judge Thomas Kuszyk, Pl Extremely happy and proud of my precious ones.
29 june

3 days shows are over with splendid results.... 3 junCC 3 BOB junior 1 Greek Junior Champion 1 Greek Junior winner18 - 3 CC 3 CACIB 1 BOS 2 BOB 2nd Group 1 Greek Champion 1 Greek Winner18 on the cockers - CC- Cacib BOS Greek winner18 3x 2 BM res.CC and Res Cacib - with the podengoes. We are sooo very pleased.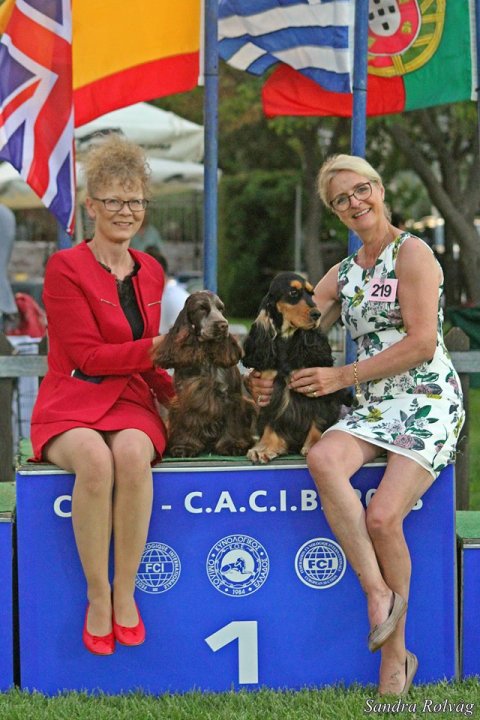 17 june
Pretty Pouca did the double at DKK int. Vejen... BOB/Cacib both days to my wonderful little lady pod. Precious Pequeno was 2.bd Cacib Saturday and BOS cacib Sunday day. Both qualified for crufts. Huge thanks to Jeanne for the video of BOB and BOS competition and just as huge thanks to Karsten for all help showing Pouca to BOB. Big thanks to breeders Miguel Sabino and Anna Tapper for these 2 outstanding pods.

10 june

Back home from 2 very different weather days at Sighthound Club CC Show in Vejen. Yesterday under the burning hot sun - Pequeno trotted his way to BOB while Pouca was BOS clubCC and BEST IN SHOW/BOS :-) Today was under the umbrella in pourning rain Pouca was BOB clubCC and NEW CLUB CHAMPION while Pequeno was BOS. Due to the heavy rain we left before the finals - simply wasnt a weather for neither man nor dog ☔
27 may

Podengo-reunion at DKK national in Århus. Lots of congrats to: Charlotte and Enigma's CC 🏆 Karsten and Xuxa's BOB 🏆 Annica and Nimbus's baby BOB 🏆 .... and I am proud of Pequenos and Pouca's BOB and BOS 💙🏆❤️ Thanks for a great day 💕
–


8 april

Just because we are worth it 💘💘💘 2 new Luxembourg champion to Precious Pequeno aka Intch Ptch etc Paraiso de Viamonte (title 35) and Pretty Pouca aka Intch Ptch etc Tappinskis Dare You Pouca (title 25) Pequeno BOB and Pouca BOS. Judge Nenad Maric.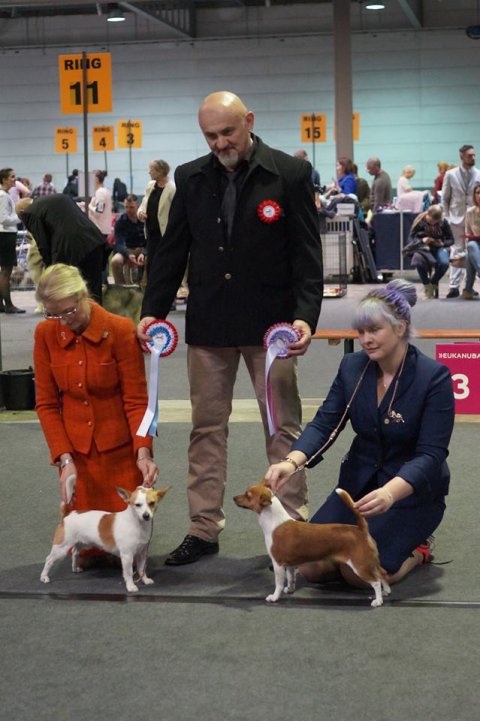 20 march
The adventure in Italy is over - and it was indeed adventurous. The dogs - Villumsen, Pequeno, Pouca and I had a smooth and great trip to 3x int show in Reggio Emilia. New friendships were made and met old friends. Saturday, my wonderful friend Domenico, came to the show and we spend a great time at the rings and Domenico showed his talent in the ring by handling Pouca to BOB - well done, my friend <3! We achieved 3 x BOB, 2 x BOS, 5 CC and 2 res.CC and was awarded 3 sausages and 2 pre-cocked meals. Interesting choice for prices..:-D The dogs and I left before the finals and hit the road for the more than 1300 km to Rostock port, where we met a different adventures which costed us 117 euro and lost the money for the pre-booked ticket. I am also a bit anxious of the side effects of the red flashlight, I met a couple of times in Germany...stupid me...😎 ...and now...will be planning the next trip to Italy in ordre to take the last of 6 CC!!! - Pouca and Pequeno needs for the Italian championship.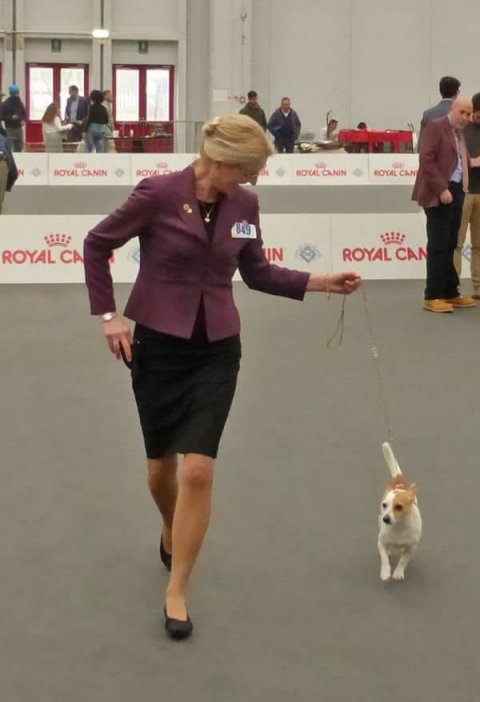 4. march

Well back home from a wonderful day at SpanielClub Winner18- show - Villumsen - aka Dan-L´s What Dream Are Made off took his final CC to the DANISH CHAMPIONSHIP the Spaniel Club Winner18 and Best Male incl BEST IN SHOW BOS!!
His son Dan-L´s Choc Tan Tucker owend by Laila Madsen came out in babyclass just 3 months old and trotted his way to Spaniel Club Winner18 Baby and BEST IN SHOW 3 BABY.
I am very proud of him and Villumsen
.


12 february

This is the best way to begin the show year in Denmark! Pequeno BOB - Pouca BOS/ Cacib... and new INTERNATIONAL CHAMPION ❤️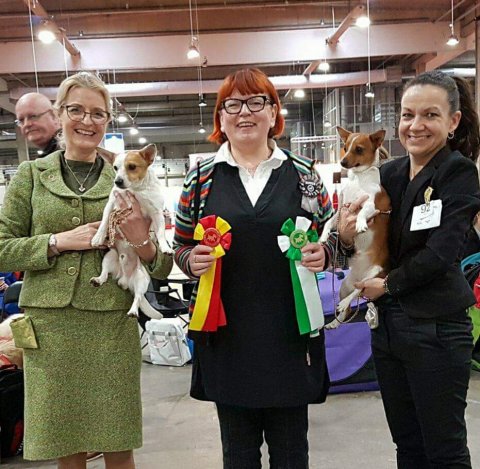 2. february

All babies have left for their new homes - jiii - so quiet her is now....

8 Januar
Back home from a wonderful trip to Slovenian Winner show in Celje with 2 Slovenian Champions - 2 Slovenian Winner 18 - 2 Crufts qualifications with Pouca & Pequeno. Villumsen took 2 CC and Slovenian championship pending. The highlight from the show, are these magnificent treasures I bought, custom-made glass sculptures ❤️
Please, let me present to you.... Pouca and Pequeno ❤️💙;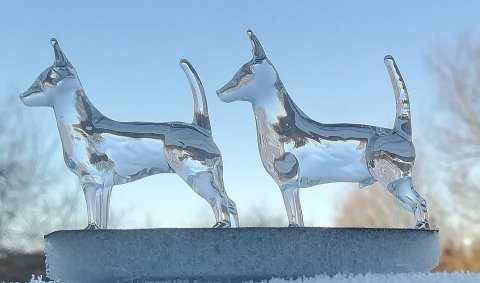 ...and happy faces in Celje...