31 december
The Year 2020 comes soon to an end - and what a weird Year it has been!!!
Covid-9 and Lock Down have been the head lines of the World.
Well, at Dan-L, I have different head lines to be VERY proud off;
I have been able to travel, safely and successfully, a broad with dogs
January:
Portugal, Porto Winner& Latin Winner- Pita took 3 new titles
February;
Germany, Giessen - Cocker Dan-L´s Ten For Me BOS CC Club&Vdh
March:
Holland, Martini 2xINT Dogshow - Pita and Pequeno 2x BOB& Bos incl CC's and Cacib's
July:
Croatia, Split 4x INT dogshow - Pita 3 x BOB ind CC 1 Cacib - Pequeno 1 BOB incl CC Cacib and Split Winner 20
September:
Austria, Tulln: 2x INT dogshow - Pequeno, Pouca and Pita - Bob's Bos and 5 CC'c 4x Cacib and 2 new titles.
Cocker Dan-L´s Ten For Me BOS incl CC and Cacib
October:
Germany, Rostock Pita BOB CCClub&Vdh Cacib and 1 new title
...and we have attented a large number of shows in Denmark bravely and safely organized by the Sighthound and Spaniel Klub with large number of CC's - BOS's and BOB's. Just to mention the headlights:
Cocker Milan got his DANISH CHAMPION TITLE
Cocker Lui went BEST COCKER OF THE YEAR 2020
Podengo Pequeno Ranking 1 Podengo of the Year (not awarded in 2020)
Behind the show scene I have had 3 wonderful litters of cockers and 1 superb litter of podengo.
I have sold my house and hired a "new" - will be moving beginning of january 21.
...and for the gossip'er:
Yes, I am still single!

22 november

🌟💫COCKER OF THE YEAR 2020 🌟💫
is back in the hands of Kennel Dan-L. DKCH(U) CIE KLBCH KBHV19 DKV19 Rosgr Dan-L´s Telling Me Dreams
So very proud of this speciel boy and his owners Sandra & Per Villumsen. 🥰
He is an extrovert cocker with the most fabulous character - sweet, gentle and the worse of all back street boys in the ring 🙃🤓
Lui is out of DEVDHCH DECH SECH DKCH(U) INTCH(U) BISS Cocker of the Year 7 years from 1996 to 2004 Dan-L's Let's Talk About Sex and DEVDHCH DKCH(U) INTCH(U) Natisja's You're Telling Me
Lui is full brother to my very own:
BISS INTCH DKCH NORDCH SEUCH NUCH SLCH CZCH DECH(vdh)
GRW18 SPKV18 DEANTRW19 DEHANSG19
Dan-L´s What Deams Are Made Off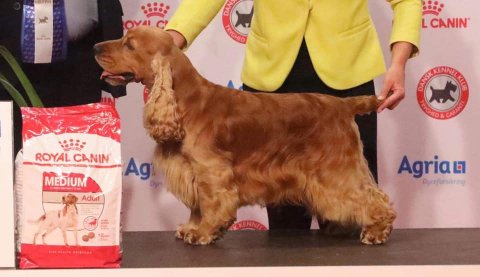 7 november
I welcome the new blue boy.
Huge thanks to Cristine Hellstrøm for this wonderful surprise

17 october

Precious Pequeno and Princess Pita shinnned in the gorgeous autumn sun and went Best of Breed and Best of Opposite with CC at Sighthound show in Århus.
Thanks for help with photos and handling, Karsten.
3 October
Phew... atleast one of us looked great today at int.Rostock, D... 🥴🤓😍
Pretty Pita went Best of Breed with CC (vdh/club) -CACIB and can add yet another title 💥Rostock Winner 2020 💥 to her already long list of titles; KBHV19 KBHJV19 DKJV19 DKJUCH KLBJCH LUJCH DEJW19 DEVDHJSL19 LATINJW20 DEJKLBCH BELXJW(LU)19 PTPOW20 DEH-JSGDO19 DELEJSG19 DEVDHJCH PTJCH DEROJSG19 Dan-L's Pita Peptoe proudly loved and bred by me.
28 september

Terrific Tulln 🇦🇹- we went there and had 2 such great int shows with friends
Cookie aka KBHJV19 DKJV19 DKJUCH SPKHV19 DEJCH DEVDHJCH Dan-L´s Ten For Me shined her true cocker type in the ring under the true gentleman judge Axel Komorowski and went ✨CC- CACIB - BEST BITCH with Crufts Qualification.✨
2nd day she took res CC under Petr Studenik with a nice report.
Loads of warm congrats to her devoted owner Anne-Lise Dyhl.
Podengos Pequeno, Pouca and Pita ruled the podengo ring saturday with ✨ BOB, BOS 3 CC's 2 CACIB's, 1 res.CACIB & 2 Crufts Qualifications✨.
Judged by another gentleman Grzegorz Weron
While Pita had enough of dogshows sunday, Pequeno and Pouca manage to take home ✨2 Austrian Bundes Sieger titles with CC's&Cacib's✨ under Rony Doedijns.
Pita is:
PTJCH KBHV19 KBHJV19 DKJV19 DKJUCH KLBJCHLUJCH DEJW19 DEVDHJSL19 LATINJW20 DEJKLBCH BELXJW(LU)19 PTPOW20 DEH-JSGDO19 DELEJSG19 DEVDHJCH DEROJSG19 Dan-L's Pita Peptoe.
Pouca is:
PTCH DKCH FICH GRCH SECH NORDCH HRCH SICH LUCH INTCH CZCH DECH NOCH DEVDHCH ITCH DKJV16 KLBJCH DKKV17 19 NORDV17 KLBCH KLBV18 DEJCH DEVDHJCH PTPOW17 PLJW16 DEH-JSGDO16 DEBDJSG16 DESHLDSG17 DEVDHESG17 HCAV17 PLW17 DEW17 19 SIW18 GRW18 DEANTRW18 19 DEVDHJASG19 DEH-SGDO19 DEHANSG19 DELESG19 Tappinskis Dare You Pouca bred by Anna Tapper
...and Precious Pequeno the BEST boy is:
WJW15 EUJW15 DKCH SECH NOCH NORDCH INTCH PTCH PLCH DECH DEVDHCH FICH HRCH SICH LUCH CZCH ITCH FCIESHW15 KBHV15 18 19 KBHJV15 DKKV16 18 KLBCH KLBV16 17 DKV17 KLBJV(MK)15 DEH-SGDO15 16 19 DEROSG15 PLW16 17 DEBDSG16 DEW17 19 HCAV17 HKW(FI)17 HRSPLITW17&20 SIW18 DEANTRW18 DEHANSG19 DEVDHJASG19 DELESG19 Paraiso de Viamonte bred by Miguel Sabino
Sorry, no photos from pod-ring...
😳🥴

9 september

Oh my, oh my...still not quite human again after a 4-shows weekend with the podengoes and cockers.
And just to challenge myself I was part of the show-team organizing the Spaniel Club Gold&Silver Cup. Setting the venue from Friday and was on the show until late Sunday.
In between I manage to take Precious Pequeno and Princess Pita to Sighthound Show in Roskilde where Pequeno really enjoyed the very cold wind and took BOB, while Pita gained yet another CC and BOS.
At Gold&Silver cup Cookie aka KBHJV19 DKJV19 DKJUCH SPKHV19 DEJCH DEVDHJCH Dan-L´s Ten For Me pleased me by winning 1.excl open BB 3 and 2 plus res. CC at 1 and 3 show, at 2nd she was 3rd ck in class.
Esther aka Grjch Grw18 Cphjw18 Dan-L's Chocolate Easter Star was shown by her devoted owner Jeanne Tribler only at 3rd show to excl 4th ck in open.
Wonderboy Lui aka Intch Dkuch etc Dan-L's Telling Me Dreams took BOS and BOB incl Best in Show 4.
I am so very happy with these 3 great cockers.
Huge thanks and congrats to Cookie and Luis owners Anne-Lise Dyhl, Sandra& Per Villumsen.
Pita is looking out for the next show - Pequeno doesn't really care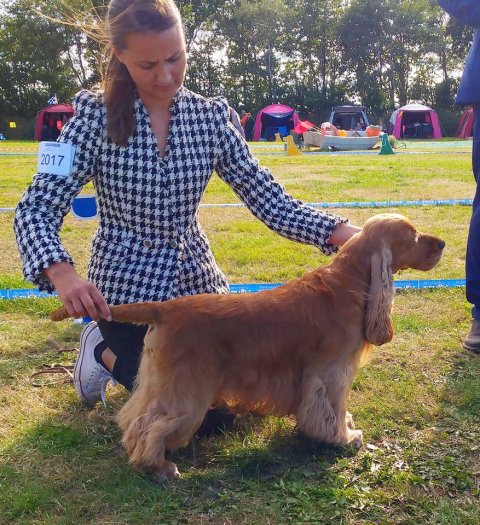 18 august
Hayley og Milans hvalpe er født.
16. august blev Kennel Dan-L beriget med et fantastisk kuld på 7.
1 blue roan han
1 blue roan tæve
1 sort/hvid tæve
3 chocolate roan tæver
1 chocolate/white
ALLE HVALPE ER RESERVERET
*************
2 august
We had a blast of a day yesterday at the danish Sighthoundshow in Nyborg, Dk. Althrough it was a very loong day - judge Charlotte Høiers reports are always worth waiting for. Precious Pequeno aka INTCH PTCH etc Paraiso de Viamonte trotted his way to BOB while Princess Pita aka PTJCH DKJCH etc Dan-L´s Pita Peptoe went BOS with CC. Great day with wonderful chats with friends - thanks to Karsten Kragh for handling Pita and Lisbeth Christensen for photo. So very nice to meet you all again and thanks to Sighthound club for organizing the show.
26 july

The fourth leg of the 4 Split night show in Croatia is done.
Pita aka PTJCH Dkjunch etc Dan-L's Pita Peptoe broke the 2nd leg 🥴🥺🥴🥺 but manage to complete leg 1,3 and 4 gaining
🌟3 CC's - 1 CACIB - 3 BOB🌟
However.. what Pita missed at 2nd leg... my Precious Pequeno aka Intch Ptch etc Paraiso de Viamonte gained by winning
🌟 CACIB - BOB - Split Winner 20 🌟
Pequeno was entred only for that show.
Huge thanks to Henrik, Theis and Cristine for taking so good care of my little ones. ❤️ I love them to pieces and am desperately missing them 🐾💕🐾💕🐾💕
Hoping for a photo of Pequeno to come ... 🙂
1 juli
I have got myself a brand new loge - beautiful made by Cristine Hellström


21 june
Brand new champion at kennel Dan-L's 🏆🍾🌟🏆🍾🌟
Marvelous Milan - KBHJV18 DKJUCH KLBJCH SPKV19 KLBJUBHV18 SPKJV19 Dixie Rebel From Peggywood (ch. Black Lord Smooth Criminal - Dan-L's Keep Me Cute) bred by Bibi Bermon, NL.
The sweetest guy ever has earned and deserved his Danish Champion title to day at Spaniel Club CC show under Mrs. Bolette Heering.
Milan was 2nd bd after Intch Dan-L's Telling Me Dreams, who went BOB.
Lots of warm congrats to Lui's owner Sandra and Per Villumsen.
Not forgetting the 2 girls KBHJV19 DKJV19 DKJUCH SPKHV19 DEJCH DEVDHJCH Dan-L´s Ten For Me 1 interm cl 3 BB owner Anne-lise Anne-Lise Dyhl and GRJCH GRJW18 KBHJV18 Dan-L´s Chocolate Easter Star - 2 opencl - owner Melissa and Jeanne Tribler I am soooo very proud of these 4 cockers 💗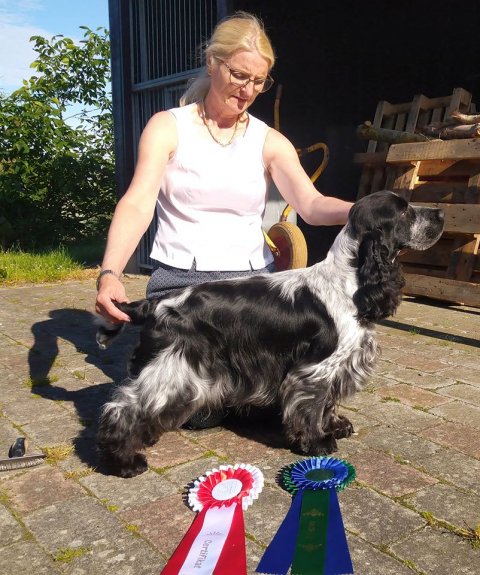 19 may
The three little piglets has grown into absolutely adorable 8 weeks old podengo babies 🥰💗🥰💗🥰💗
They are soon leaving to conquer the world and I am very sure, that they will make me very proud.
Wish them all the best of luck
Dan-L´s Pepita Pina
Dan-L´s Pipa Pipelette
Dan-L´s Portuguese Perola
out of INTCH PTCH+45 Paraiso de Viamonte
and INTCH PTCH+42 Tappinskis Dare You Pouca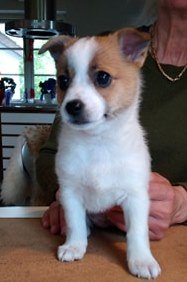 Dan-L´s Pepita Pina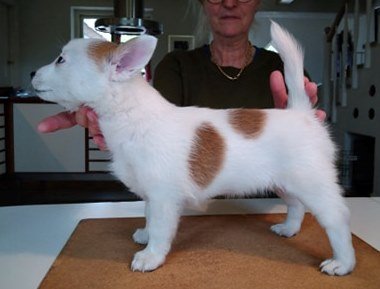 Dan-L´s Pipa Pipelette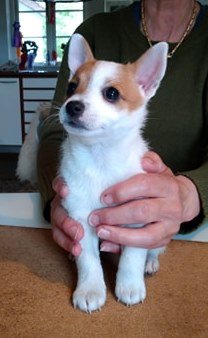 Dan-L´s Portuguese Perola
9 may
STOP PRESS
Milan - aka junch etc Dixie Rebel From Peggywood produces CHOCOLATE!
12 march
Laura !!! - You are such a bitch!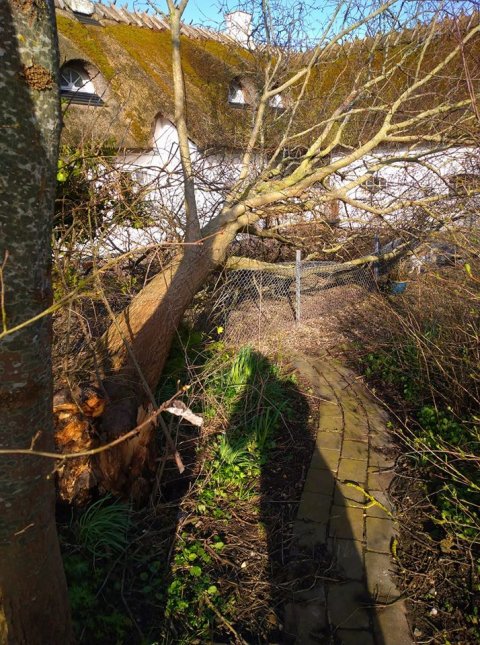 3 march
35 Years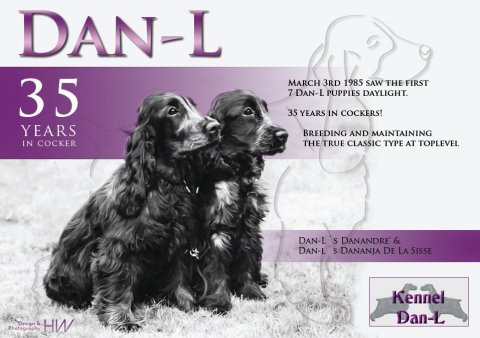 2 march

Princess Pita aka Ptjch Dkjunch etc Dan-L's Pita Peptoe has grown up, now 15 month old she made me extremely proud by taking 2 cc, 2 cacib, 2 Best of Breed with the best words from the judges. Uncle Pequeno aka Intch Ptch etc Paraiso de Viamonte was 2x BOS 2 cc, cacib at IDS Groningen, Nederland. Precious Pequeno is bred by Miguel Sabino. Thanks for great company to the cocker, crest and podeng/co- lovers and lots of congrats on your wonderful wins 🏆 🐾 🏆 🐾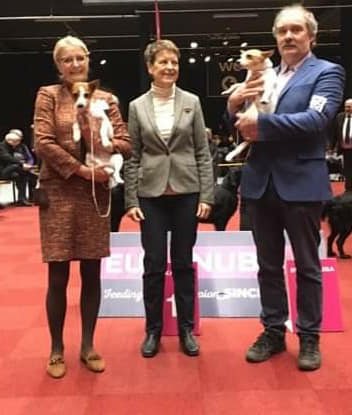 13 january

Tjuliiiihoooooooooo!!!
How proud I am of my Princess Pita aka Junch +11 Dan-L's Pita Peptoe We went to the Latin Winner & Porto Winner shows in Porto, Portugal and the Princess was flying high on the wings of Best Bitch - Jun CC - Junior Latin Winner 20 Saturday and Best Junior Bitch Jun CC - Junior Porto Winner 20 Sunday.
She earned the precious:
PORTUGUESE JUNIOR CHAMPION 🌟🌟🌟🌟🌟🌟🌟🌟🌟🌟🌟🌟 too. .... and.. Yes!!!! I am proud ❤️
Meeting great friends is icing on the cake 💕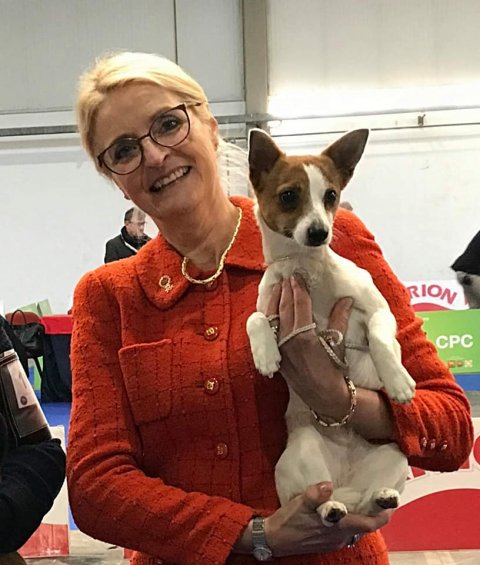 1st january

Amazing 2019 has ran out and OMG what a Year it has been!!!!
The dogs and I have been on the most fantastic tours around Europe and we have met old friends, made new friends, seen loads of hotels, showvenues and spend thousands of kilometers on highroads
I maintain the high standard for my small kennel and am sooo very proud of my cockers Milan,Villumsen, Cookie and Lui and podengos Pequeno, Pouca and Pita for bringing home to us .....
💥💥💥💥 OUTSTANDING 47 new titles 💥💥💥💥
Pita - Dan-L´s Pita Peptoe
Pouca - Tappinskis Dare You Pouca
Pequeno - Paraiso de Viamonte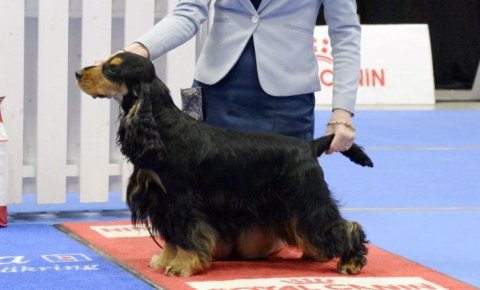 Villumsen - Dan-L´s What Dreams Are Made Of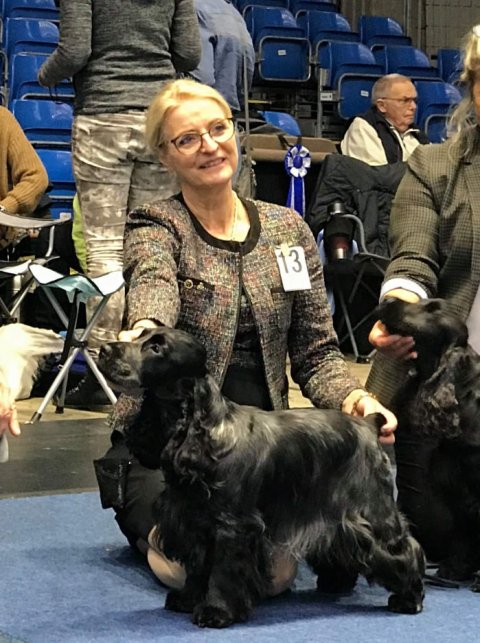 Cookie - Dan-L´s Ten For Me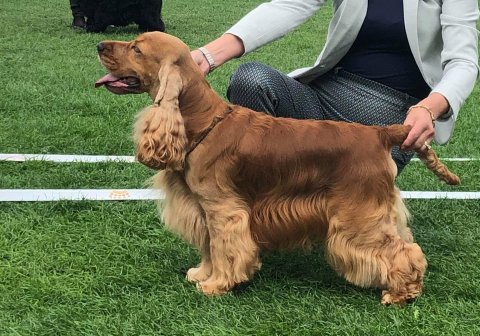 Lui - Dan-L´s Telling Me Dreams